Selected Weekend Game Recaps
Thank you to those who sent in pictures and a few words. Remember to send in pictures, recaps, and videos to media@LHLL.org and we'll try to feature everyone!
AAA Dodgers 7, AAA Braves 6
The Dodgers eked out a close victory. Dodgers Max Mihai and Thor Thuler combined to hold off the Braves.  Eli Webster made his pitching debut for the Braves, showing his natural talent with 3 strikeouts.  Brave Tyler Solorio made a great play from the mound, bolting after a bunted ball and beating the runner with a quick shot to first.
Angel Rodriguez had a crucial catch in center field on a rocket shot from Brody Flores, while Thuler hit an inside the park home run for the Dodgers.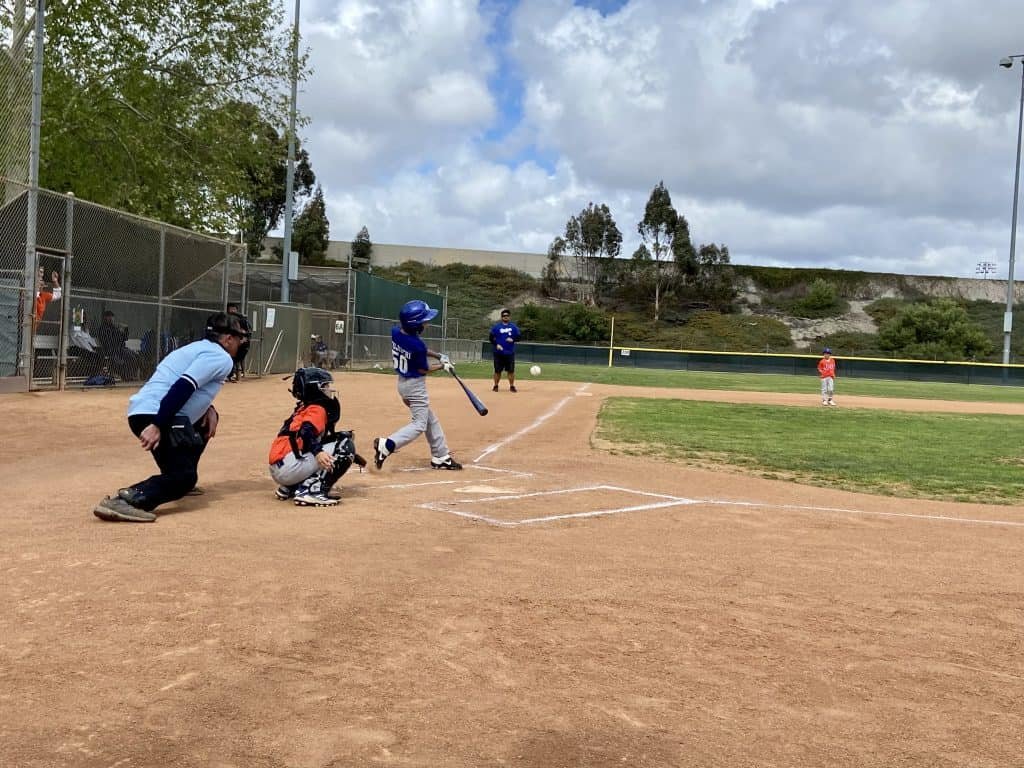 The Laguna Hills AA Dodgers lost a close matchup with the Aliso Viejo Mets on Saturday, falling 8-6. The Dodgers came out hitting, with three hits in the first inning including a double from Alex Tsujiuchi and a two-run triple from Nolan McCarron. Despite gritty pitching efforts from Anthony Kamae and Asher Davis, the Mets rallied late to hold onto the lead. James Pitt was two for two on the day, with Oliver Fast and Colin Bohm adding hits for the Dodgers. Asher Davis received the game ball, and Darren Chen received a toughness award.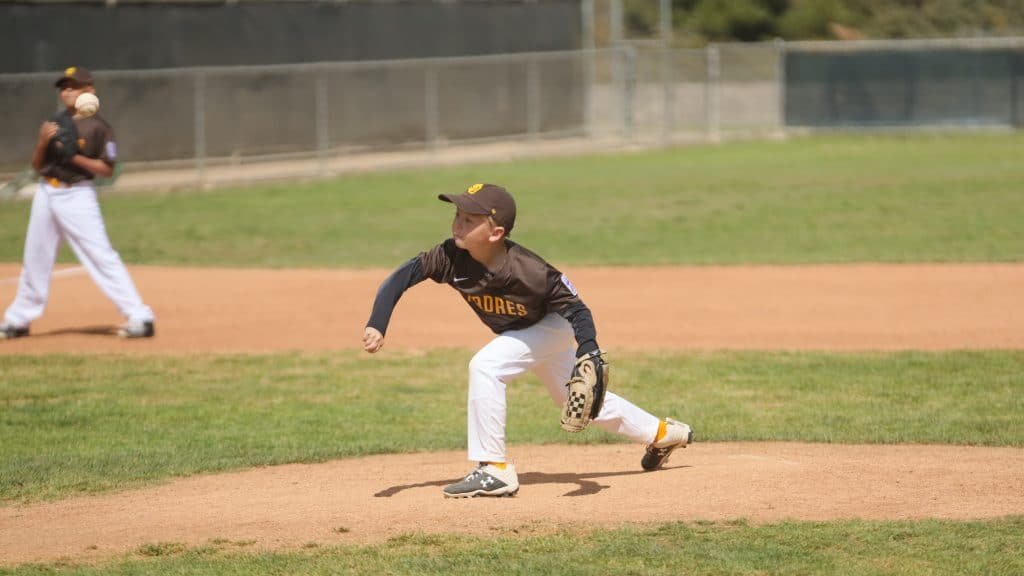 AV Cardinals 10, AA Padres 7
Wyatt Beale's pitching debut highlighted the Padres' loss against the AV Cardinals, as he settled in to throw a scoreless third highlighted by two strikeouts and a great play on a comebacker.  Cohen Sanchez, Jack Tran, and Cayden Goodman got their first hits of the season.  Zakary Manista showed great discipline at the plate, walking three times and scoring three runs, while Adam Mandel scored two.  Jackson Fliegler earned a trip to the snack bar by taking a pitch squarely to the rear.
A Red Sox vs. A White Sox
The A Ball Red Sox played the White Sox this Saturday at Cabot Field. The future is clearly bright for Laguna Hills Little League! The highlight of the game for the Red Sox came when third baseman Sonel Ruttan made a play and then threw it to first baseman Francisco Covarrubias for the put out! Sonel also received the game ball for the Red Sox.
The White Sox also had a solid first game. Each player walked away with a great hit or play in the field. Highlights included River Ashworth's bases-clearing triple and Luke Guerard's fantastic defense from the pitcher position.

Another amazing A Ball game as the Angels took on the Dodgers at Upper Cabot Field.  Jackson Parker hit an absolute bomb to the outfield and Crosby Fliegler just missed out on a play from third base, when he made a good play on a hard hit ground ball. 
Do think think these kids are having fun? T-Ball should probably be renamed to the "We are having too much fun" division. Pictured here are our T-Ball Giants where Alex Sipkovich got the game ball for great hustle, three strong hits and two great balls in the field. Good job Giants and congrats Alex… keep it up!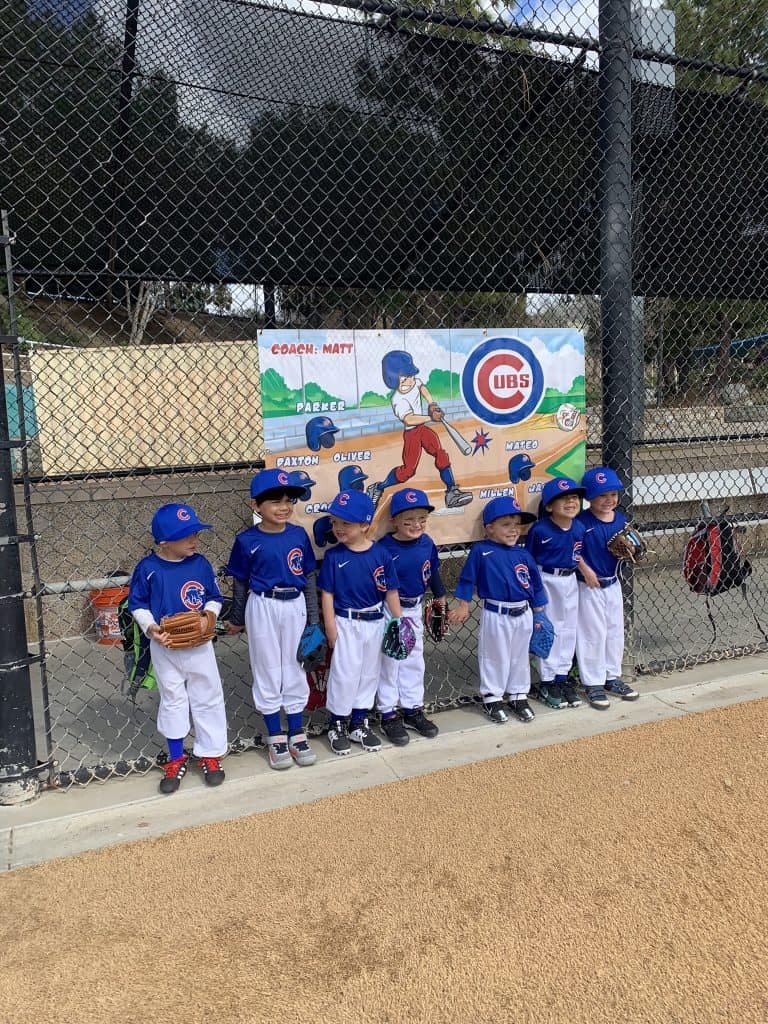 With packed stands, the Cubs battled the Pirates in a game so exciting no one even knows the score. It had big hits, amazing outs, home runs – and only a few tears. The wind and cold couldn't keep these players down as they celebrated with juice boxes, apple slices and goldfish…. and if the crowd's enthusiasm is any indication – this is going to be an unforgettable season. A big congratulations to the Cubs and Pirates T-Ball teams and management. 
The Rookie Angels had an exciting first game.  Many of the kids played in their their first baseball game ever! Highlights included great hits from Leo Kunde, Kent Coberth, Nathan Manista, Thomas Glicksman, Reece Ke, and Ellis Kunszt.  Royce Ke made a play to get an out at second base.  Andrew Egge also caught a grounder and made an out at first base.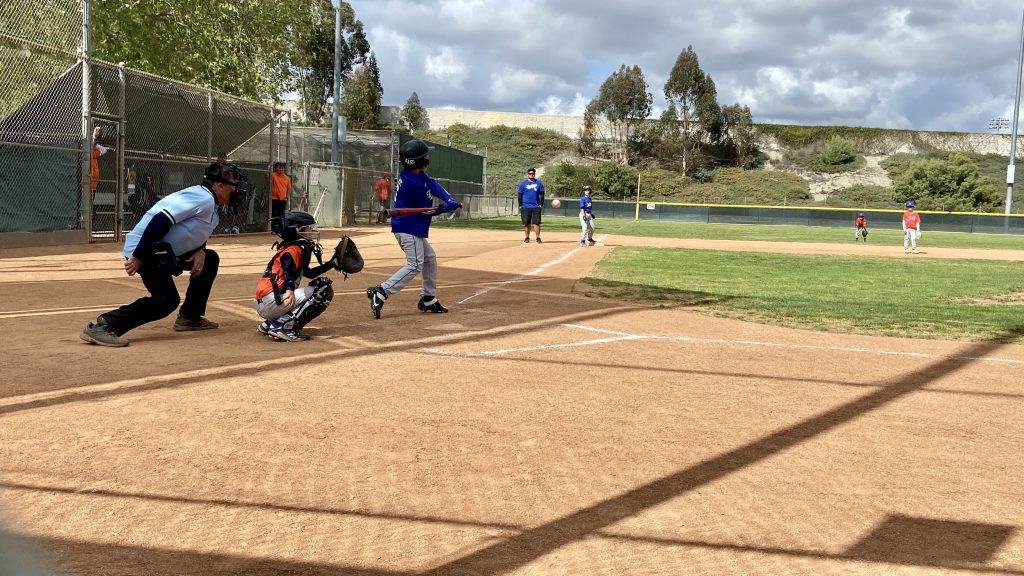 A trio of pitchers combined for a strong performance, leading the Laguna Hills AA Dodgers to a 6-2 victory this week over the Aliso Viejo AA Phillies. After Isaiah Romero led the teams in the Little League Pledge, Nolan McCarron got the win, striking out six batters over two innings and giving up only one hit. Anthony Kamae pitched a scoreless third inning, setting up James Pitt in the fourth, who struck out the side to end the game.
From the plate, Colin Bohm scored two runs on two walks, and Darren Chen (in his first ever baseball game) had a sacrifice RBI in the fourth inning. Anthony Kamae received the game ball, with Oliver Fast receiving a toughness award and Alex Tsujiuchi receiving a field awareness award.
AA Padres get off to a good start
The Padres opened the season with a 6-0 shutout victory over the AV Dodgers, with Cayden Goodman, Michael Orduno, and Jackson Fliegler combining for 5 scoreless innings.  Orduno made a major league play on a short bunt, gunning the ball to Jack Tran, who made an outstanding catch at first base.  Fliegler struck out the side on 14 pitches to close the game.  Fliegler and Orduno also each had two hits, while Cameron Webb got his first hit of the new season and scored two runs.  Cohen Sanchez and Dylan Mitchell also scored for the Padres.